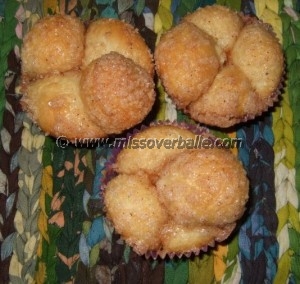 Sorry :( I have been neglecting you terribly, I am so sorry :'(
I have not been doing so on purpose, I promise! But it has been over a month(!) and I have been so busy. As you may remember from this post, I have been working on my bachelor thesis, and I am done! I am know B. Sc. (which I still think is very cool) and I'll continue with my masters degree in the fall. After finishing my thesis, I spent a week working full-time, and then went to Scotland for two weeks, so things have been busy. But now, I should have time to update my site and bring you recipies and beautiful cakes!
First recipe is Cinnamon Ball Muffins. I don't really know if the name is appropriate, but they are delicious!
First, you make a plain yeast dough:
600 g flour
2 dl warm milk
50 g fresh yeast (or 1 pkg. active/dried yeast)
2 eggs
100 g butter, melted
2 tbsp. sugar
1 tsp. salt
For dipping:
150 g butter, melted
2 tsp. cinnamon mixed into 150 g sugar
If using fresh yeast:
Dissolve the yeast in the milk, add the butter and eggs, then the sugar and salt, and knead in the flour.
If using dried yeast:
Mix the wet ingredients in a bowl. Mix the dry ingredients in a bowl, and knead the dry ingredients into the wet.
Knead until a soft, elastic dough has formed, leave to rise for 15 minutes. Line a muffin tin with paper liners.
Form small balls from the dough (2 cm in diameter), dip in butter, then in cinnamon sugar, and put 4-5 in each paper liner.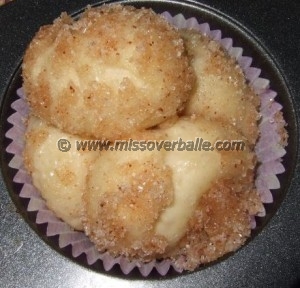 Bake at 210 degrees Celsius for 12-15 minutes. These are really delicious!