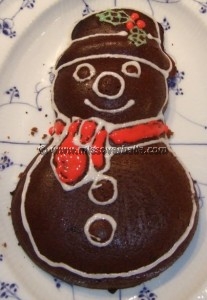 250 g butter
2 eggs
375 g brown sugar
500 g flour
1 large teaspoon baking soda
1 large teaspoon grounded cloves
1 large teaspoon cinnamon
½ l milk
Beat the butter and sugar thouroughly. Add the eggs one at the time, beating after each edition. Flour and spices are mixed and added. The milk is added gradually, mix the dough thouroughly.
The dough is divided between two tins, and baked at 210 degrees celcius, for about an hour.
The cake can be baked in any tin (moulded as well), just adjust the baking time, a skewer should come out clean, when finished.