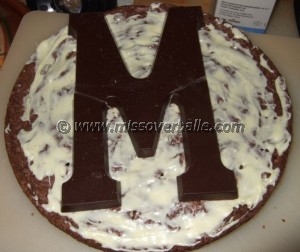 100 g butter (melted)
100 g hazel nuts, chopped (optional)
2 eggs
3 dl sugar
1½ dl all-purpose flour
4 tbsp. cocoa
1½ tsp. vanilla sugar
pinch of salt
Beat eggs and sugar until foamy. Mix the dry ingredients and add to the eggs and sugar, along with the butter and nuts.
Pour into a lined baking tin (20×30 cm or so)
Bake for 30 minutes or so, at 175 degrees Celcius, until somewhat firm.
allow to cool off, before cutting into squares.
A note: If you need larger quantities of this cake, you must bake it in two seperate tins, not i one large tin. I have tried this three times now, and every time resulted in a big, black, burned, unedible spot in the middle of my beautiful cake.