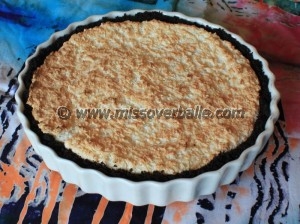 I like bountys. Very, very much. The sweet, smooth milk chocolate and the moist, delicious coconut filling is just so… Sorry. Anyway, if you like bountys as well (even if you like them in a more conventional way), you might like to try bounty pie. This combines a chocolate crust with a moist coconut filling, and is really, really good.
You will need:
1 Oreo Crust (not baked!)
3 egg-whites
150 g sugar
200 g unsweetened, dessicated coconut
2 tbsp. 18% sour cream
1 tbsp. vanilla sugar
Heat the sugar and egg-whites in a double boiler unil the sugar has dissolved. Whisk into a stiff meringue (this will take a while), and fold in the coconut, vanilla and sour cream. Pour the filling into the crust, and bake for 10-15 minutes at 180 degrees until the top of the filling is golden.
Eat, share and enjoy :)