This is my new go-to recipe for chocolate cake. It is moist, intense, velvety and so delicious. I used it for this cake and this cake, and several other cakes that I either forgot to photograph or haven't posted about yet.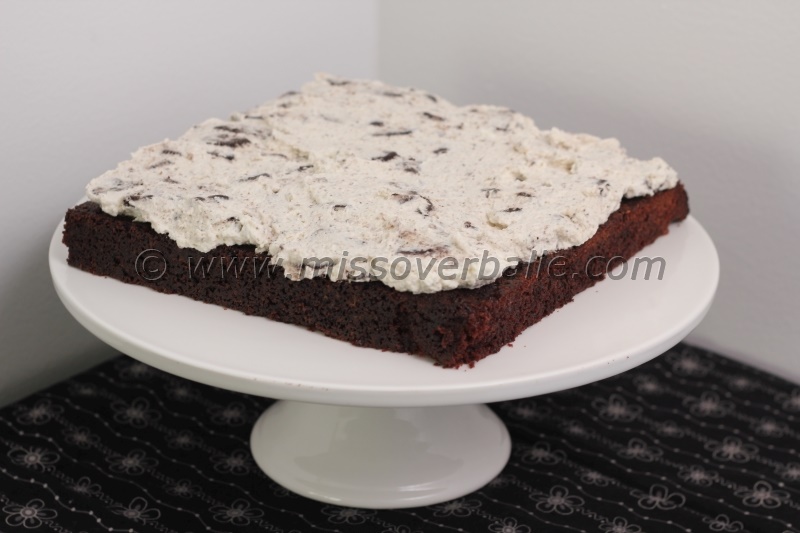 It originates from the Confetti Cakes Cookbook, and is described as a Red Velvet Cake. For me, however, no amount of red food colouring can make the dark brown cake red, so I omit the food colour and have the best chocolate cake ever instead. Below is the recipe converted to metrics.
In the picture above I paired the cake with Oreo mousse, which is utterly delicious!
The Cake:
Yields:
1 30×30 cm square OR 3 20 cm round cakes for stacking
350 g white flour
60 g cocoa powder
1½ tsp. salt
475 ml canola/rapeseed oil
520 g white sugar
1½ tsp vanilla sugar
3 eggs
300 ml buttermilk
2 tsp. baking soda
2½ tsp. white vinegar
Preheat the oven to 180 degrees Celsius.
Mix flour, cocoa powder and salt together in a bowl.
In a large bowl, whisk the sugar, vanilla sugar and oil together, until well combined. Add the eggs one at the time and mix well.
Fold in the dry ingredients alternately with the buttermilk.
In a small (but not too small) bowl combine the baking soda with the vinegar (it will effervesce), and fold the foaming liquid into the batter.
Pour into a lined/greased cake tin/tins and bake for 20-40 minutes (20 minutes for individual 20 cm rounds, 40 minutes for 30×30 cm squares) until a skewer inserted in the middle of the cake comes out clean.
Let the cake cool off, and pair with your favourite filling. (I recommend the Oreo Mousse below). You could top it up with some freshly made whipped cream with the help of whippers from Cream Charger World.
Oreo Mousse (Enough to fill a 20 cm layer cake, or spread over a larger cake. the recipe can be reduced or increased in quantity as needed)
250 g mascarpone
250-300 ml whipping cream
1 pack of Oreos, crushed into large pieces.
Combine mascarpone and whipping cream in a bowl, and whisk (by stand mixer, hand mixer or hand if you are strong) until the consistency is of a slightly soft whipped cream. Fold in the crushed Oreos, and fill the cake with the mousse (or serve one the side).
If you are not serving immediately, keep the mousse in the fridge.