So, I think I promised you a post on the recent wedding cake I made.
The bride and groom had requested chocolate, raspberry and caramel as flavours and had given me free hands to decorate with elements of chemistry and electrical engineering/robotics (their respective fields of work). They also preferred the cake elegant rather than whimsical.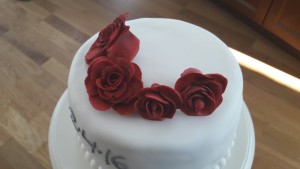 So I spend some time sketching and sparring with my husband and ended up with 3 main elements. Electrochemical circuits (with Potassium and Fluorine representing the bride and grooms initials), the chemical structure of oxytocin (aka the love hormone) and gear wheels (because robots have gear wheels, right?).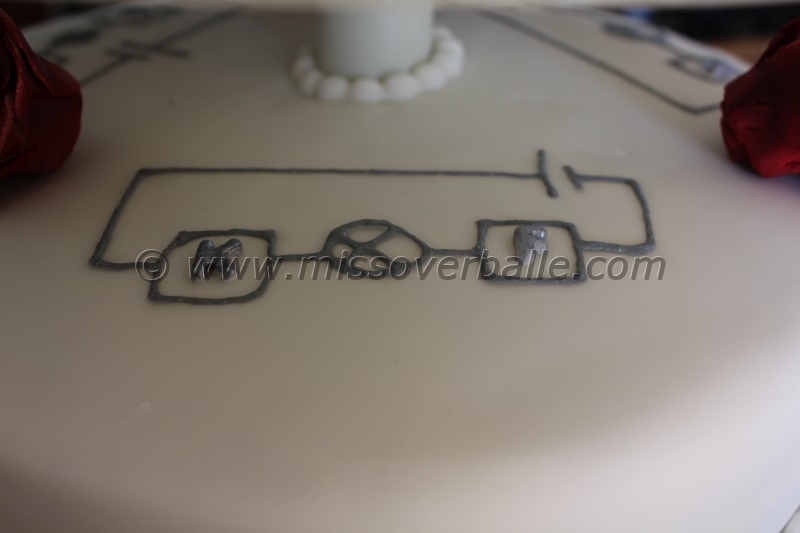 I piped the circuits and the oxytocin structure with flexi-ice (coloured grey), så the chemical structure could be draped over the cake and down the sides. The non-carbon atoms (nitrogen, sulphur, oxygen and hydrogen) were made of sugarpaste in a small silicone mould I had. These were then painted silver with RainbowDust metallic paint.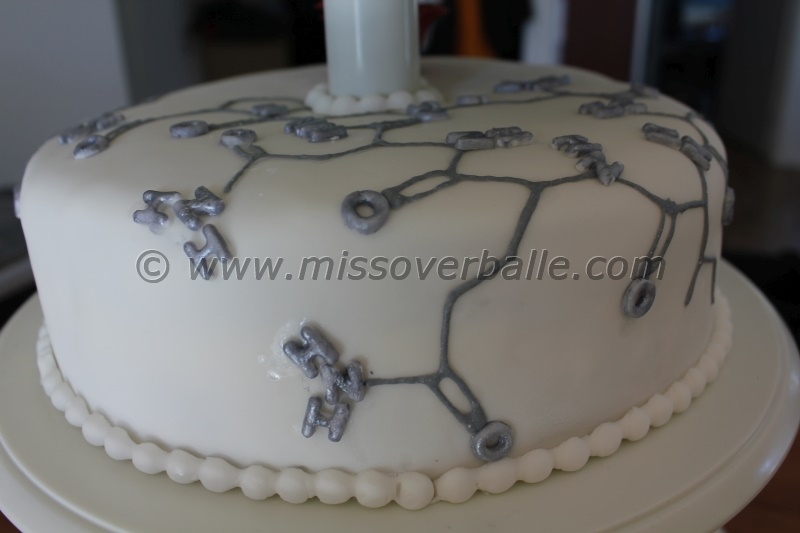 I covered the cakes with white Squires Kitchen sugarpaste, and added the circuits to the biggest layer and the chemical structure to the second biggest layer.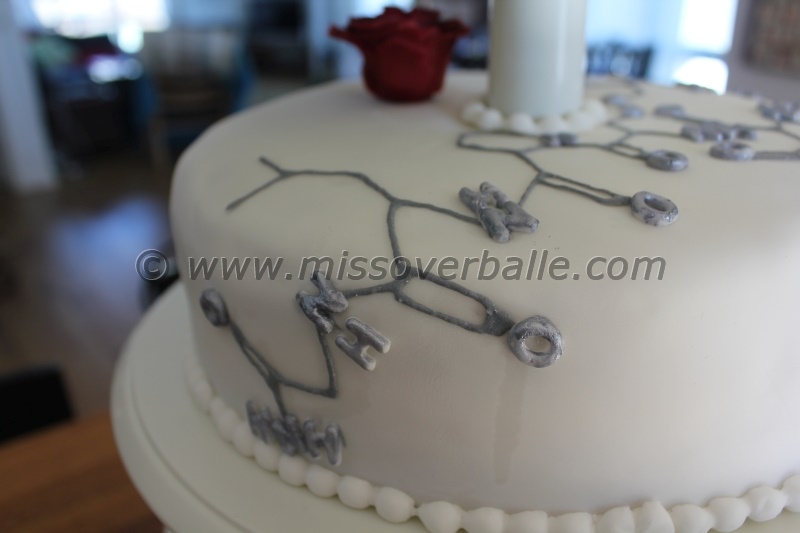 Originally I wanted to airbrush gearwheels on the side of the third layer, but the stencil didn't arrive. I had ordered silicone moulds to make fondant gearwheels to scatter on the cake, so I made a lot of those, painted them with light and dark silver RainbowDust metallic paint and positioned them around the cake.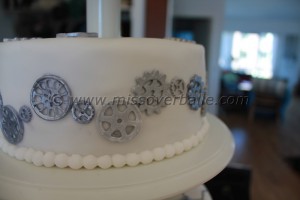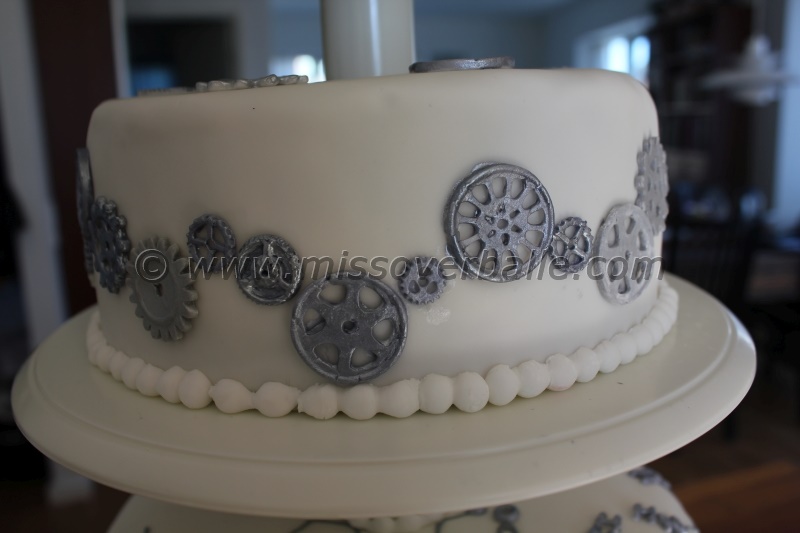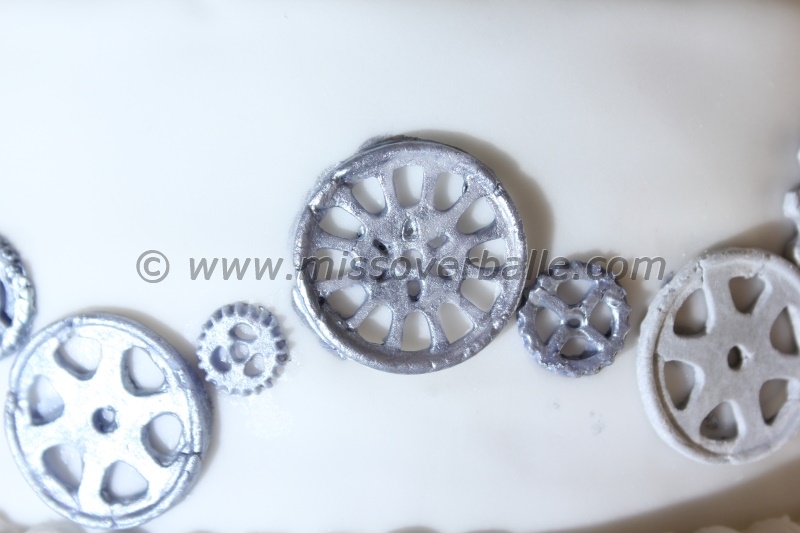 The top cake had only the wedding date. These numbers were also piped with flexi-ice, and positioned on the side of the cake.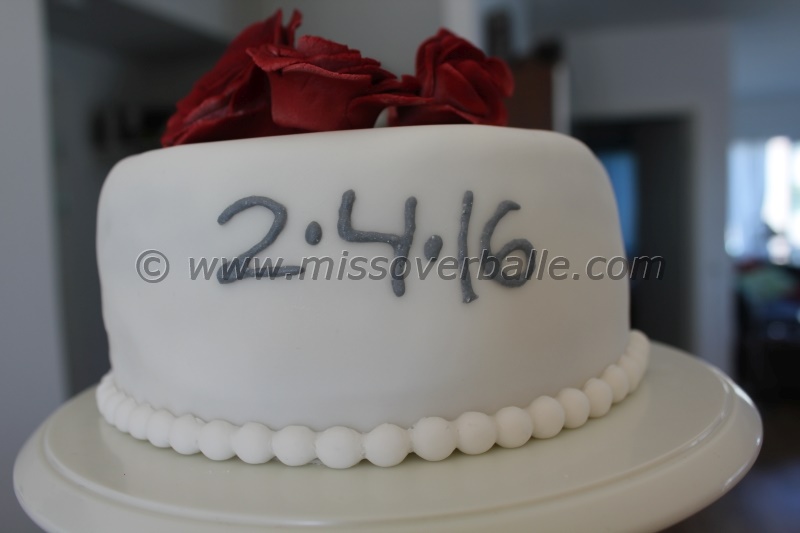 To add some colour (and romance) to the cake I made some sugarpaste roses with FMM'S easiest ever rose cutter in red sugarpaste and airbrushed them with red colour to add depth. These were positioned around the cake.
The bride and groom had bought Wall-E and Eve toppers for the cake, it looked so great! The lighting on the pictures from the reception isn't great, but the robot couple was too cute!
And finally a picture of the cut cake!