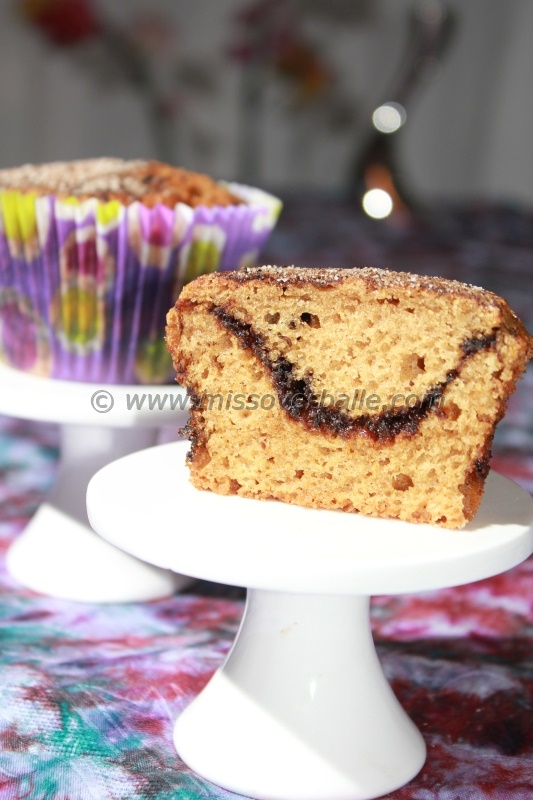 My colleagues have discovered that being in the vicinity of me, often means being in the vicinity of cake. Recently, I brought giant Liquorice Swirl Muffins to the office, and one of my colleagues proclaimed that I was the world champion of cake-baking.
I am very much aware that I am not – but it warmed my heart :)
The muffins are a variation over the Cinnamon Swirl Loaf, inspired by Sallys Baking Addiction. I liked them in the giant version, but regular size muffins would work fine as well.
I used two types of Bülow liquorice powder, and it packed a nice flavour.
Yield: 6 giant muffins, ~12 regular muffins
Batter:
250 g flour
1 tsp baking soda
1 tsp vanilla sugar
½ tsp. salt
1 egg
150 g brown sugar
50 g sugar
240 ml buttermilk
80 ml vegetable oil (I used sunflowerseed oil)
Swirl:
1 tbsp. raw liquorice powder
1 tbsp. fine liquorice powder
65 g sugar
Mix the sugar and liquorice powder for the swirl, and set aside.
Mix flour, baking soda, vanilla sugar and salt in a large bowl.
Whisk the sugars and egg together until light and frothy. Mix the oil and buttermilk together, and add to the egg mixture.
Fold the wet ingredients into the dry ingredients, taking care not to overwork the batter.
Line a muffin tin with paper liners, and fill the liners halv with batter. Sprinkle with liquorice sugar (3/4 of the sugar should be used here). Top with the rest of the batter, filling the paper liners to about 2/3 of the volume. Sprinkle with the rest of the liquorice sugar.
Bake for 15-20 minutes at 180 degrees, until a skewer comes out clean.