So very much has happened in the last 5 weeks. On February 7th I married the love of my life, on February 13th we moved in with my parents (temporarily, until May 1st) and on February 20th I quit my job. In the span of two weeks, my entire life turned upside down, and I am very happy about it. I am thrilled to be married, I am thankful to my parents for letting us stay with them until our new appartment is ready and quitting my job was the right decision, however hard it was to come to the conclusion. I will probably cover the moving story and perhaps the job story in a different post, but for now, lets talk about the wedding! (and the cake).
We got married in Farum Kirke, one of the two churches in the town both my parents and Kristian's parents live in. It is a beautiful medieval church, and almost our entire families and almost all our friends were present.
My gorgeous dress was sewn by my aunt! Can you believe that there is 35 meters of fabric in the dress? She also made the veil, and two of my bridesmaids (My friend Liv and my sister Anna) embroidered the entire edge of the veil with beads and sequins. My tiara was a gift from Kristian and was made by Karin from Galleri Castens, who also made our costum wedding rings.
After the ceremony we had a reception with coffee, tea, champagne and cake!
The cake was white cake with dulce de leche and chocolate ganache filling, covered with white fondant and decorated with a snow theme (the entire wedding theme was snow, but we didn't get any real snow on the day)
We had a costum cake slicer made with the dates of our first kiss, engagement and wedding day, along with appropriate album titles from our favourite band, TV-2. The translations of the titles are "A Lovely Thursday", "The World is Wonderful" and "Kiss The Bride".
We also had other items on our dessert table: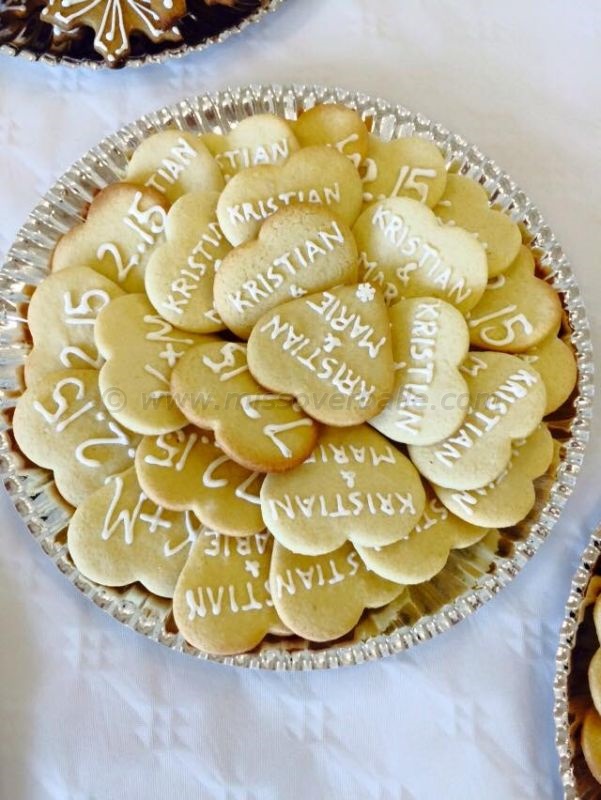 Vanilla cookies with our names and the date,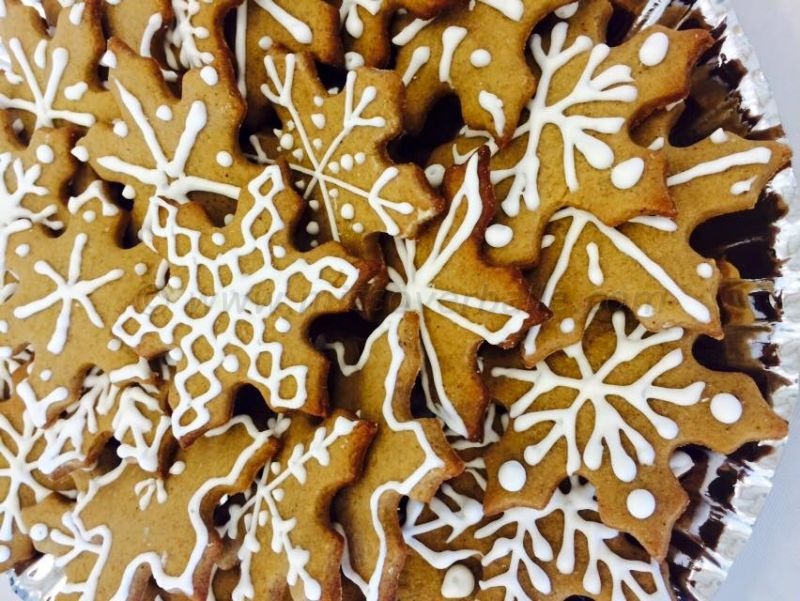 Gingerbread snowflake cookies (recipe will come!)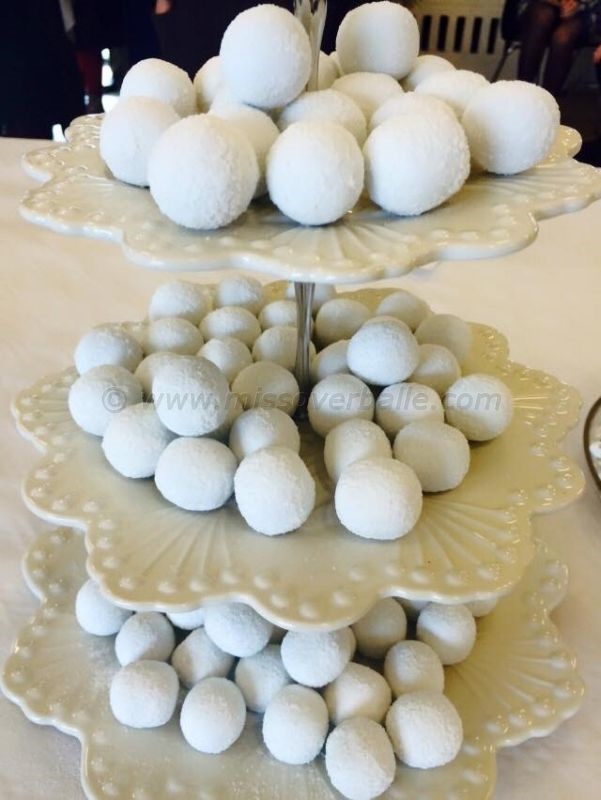 Sugar covered marzipan balls,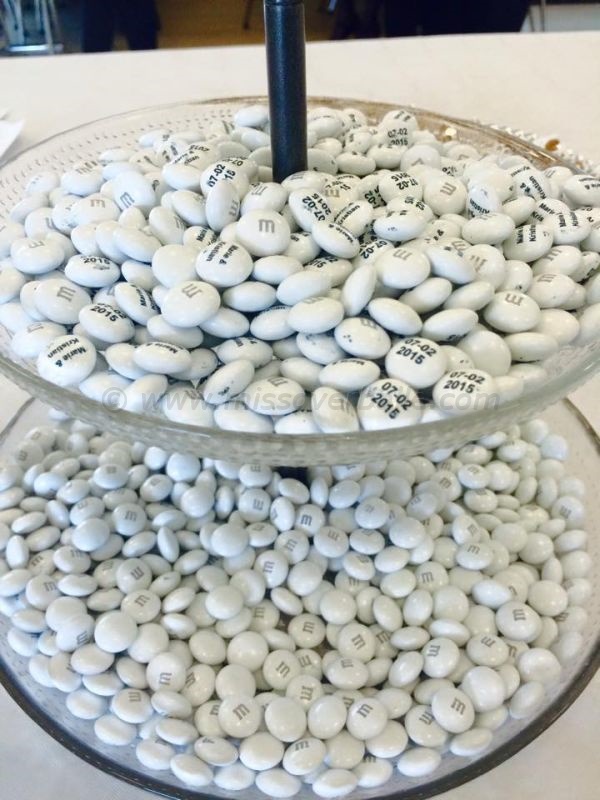 Personalized M&M's from London,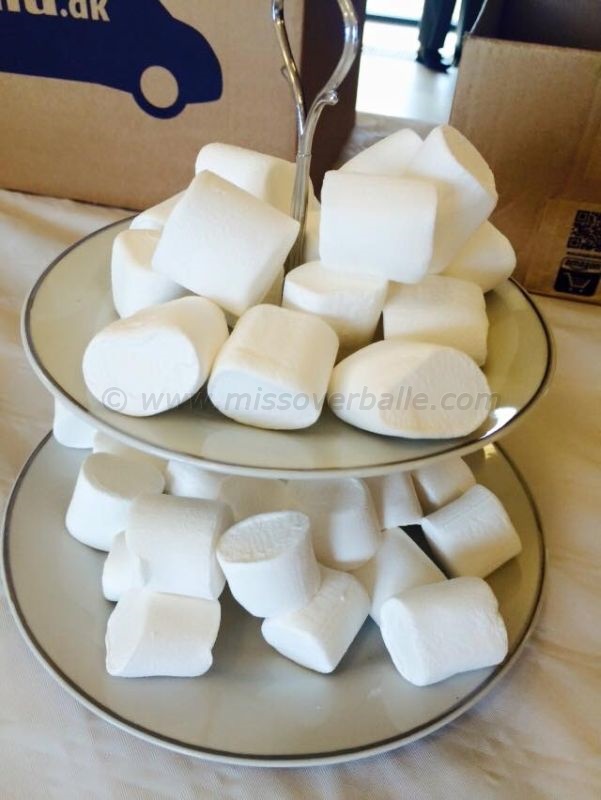 Marshmallows,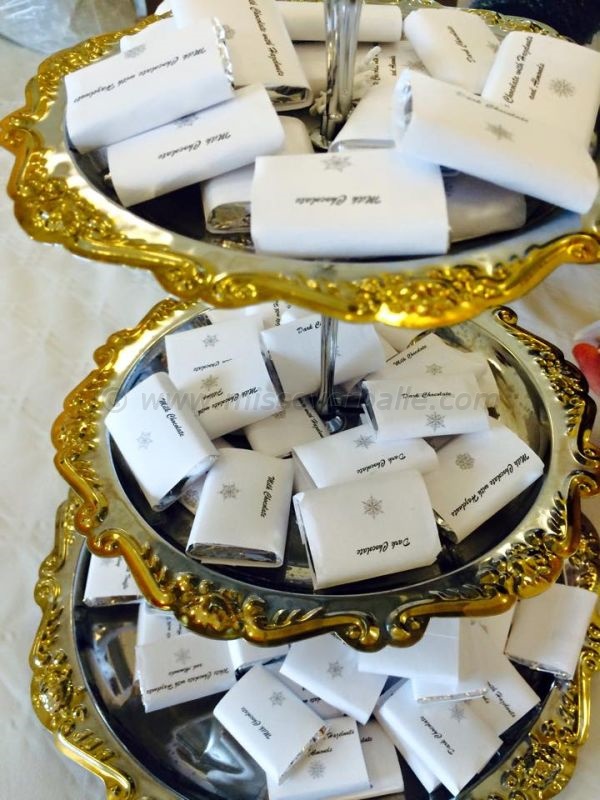 Chocolates (we wrapped them all),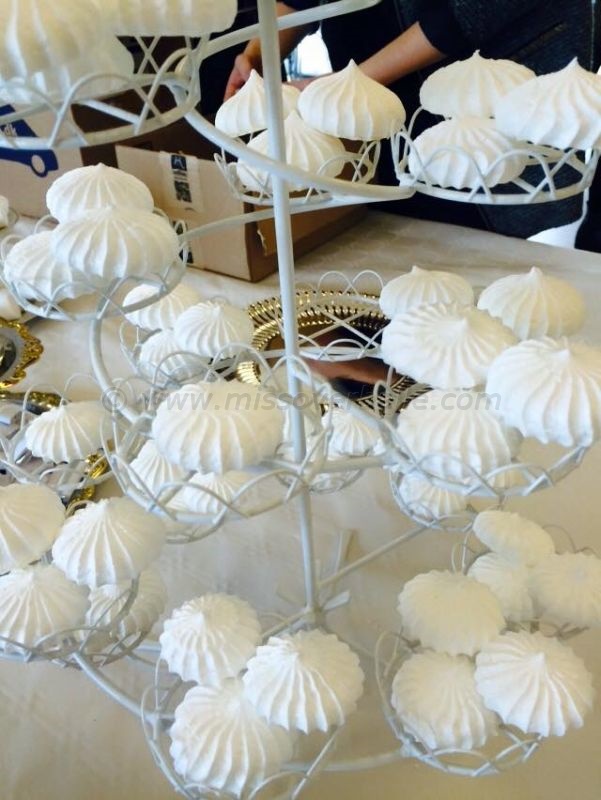 and airy meringues!
After the reception we had our wedding pictures taken down by the lake, right by the church, before heading to the conference center where the party was held.
We had an entirely amazing day and evening, and we have so many great pictures thanks to our photographer Søren Friberg, whom we will highly recommend.
So, a bit more information on the cake!
The cake itself was a slight (very slight) adaption of I am Bakers Perfect White Cake. I used 1 tablespoon of my ever loved vanilla sugar instead of vanilla and almond extract and I used all-purpose flour. Otherwise I followed the recipe as printed.
I then baked two layers of each size needed and divided each layer in two, so I had 4 layers for each tier. I sandwiched the layers with two layers of dulce de leche and one layer of chocolate ganache.