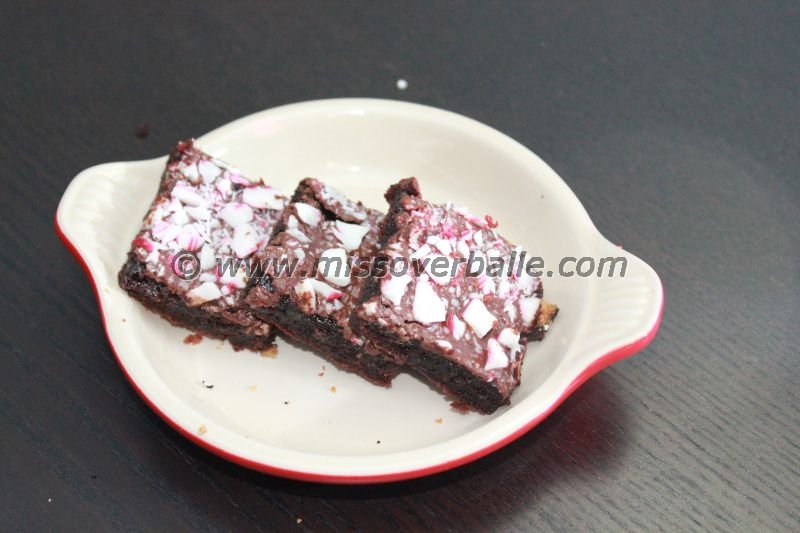 Lets talk about chocolate for a moment. Depending on where in the world you are, the chocolate bars differ. For this recipe you will need After Eight chocolates. If you happen to be somewhere in the world where After Eight is not common, you can use Andes Mints or similar, something with a thin peppermint fondant covered in dark chocolate.
I wanted to try using After Eights in baking, and decided to variate over my olive oil chocolate cake, and I was quite pleased with the result.
My father dubbed these "After Eight Brownies", my boyfriend tried changing it to "After I ate brownies", but I preferred my fathers name :)
110 g flour
225 g sugar
6 tbsp. cocoa powder
0.75 tsp. baking powder
0.75 tsp. baking soda
pinch of salt
1 tbsp. vanilla sugar
1 egg
8 tbsp. milk
4 tbsp. olive oil
8 tbsp. boiling water
150 g melted After Eight mints
Mix all the dry ingredients in a bowl. Mix egg, milk and olive oil and add to the batter along with the boiling water. Mix thoroughly, before folding in the melted After Eights. Pour the batter into a 20×30 cm pan, and bake at 180 degrees Celsius for roughly 30 minutes, until a skewer comes out clean.
Now you can eat these as they are, or you can cover the cake with melted chocolate (I used roughly 100 g of dark chocolate) and sprinkle with 3 crushed candy canes.