My mother dislikes white chocolate. But after tasting this cake, she said she had forgiven white chocolate its existence. That has to be a success!
300 g white chocolate
150 g butter
5 egg whites
5 egg yolks
100 g sugar
2 tbsp. flour
Melt the white chocolate with the butter, and let cool. Beat the egg yolks with the sugar, until light and foamy. Add the chocolate mixture and then beat in the flour.
Beat the egg whites until stiff, and fold them carefully into the batter.  Pour into a lined springform tin (20 cm in diameter), and bake for 35 minutes at 180 degrees celsius, until a skewer comes out clean!
When the cake comes out of the oven it will be domed, but falls together as it cools.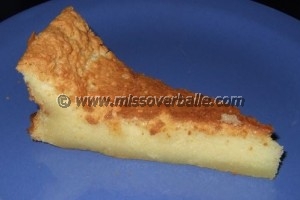 Serve with whipped cream and berries, or eat as it is!