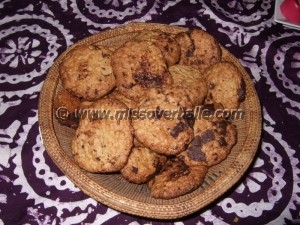 Crisp and delicious!
200 g butter
3 dl flour
7 dl oatmeal
2.5 dl sugar
2. dl muscovado sugar
150 g chopped chocolate
2 tbsp. flavourless oil
2 eggs
½ tsp. baking powder
1/4 tsp. baking soda
1 tsp. vanilla sugar
Mix all the dry ingredients. Melt the butter and add the eggs and oil. Mix the dry ingredients and chocolate into the butter-egg mixture.
Form balls, the size of walnuts, and place on a baking sheet, flatten them slightly, and bake them for 12 minutes, at 175 degrees Celsius, untill golden.