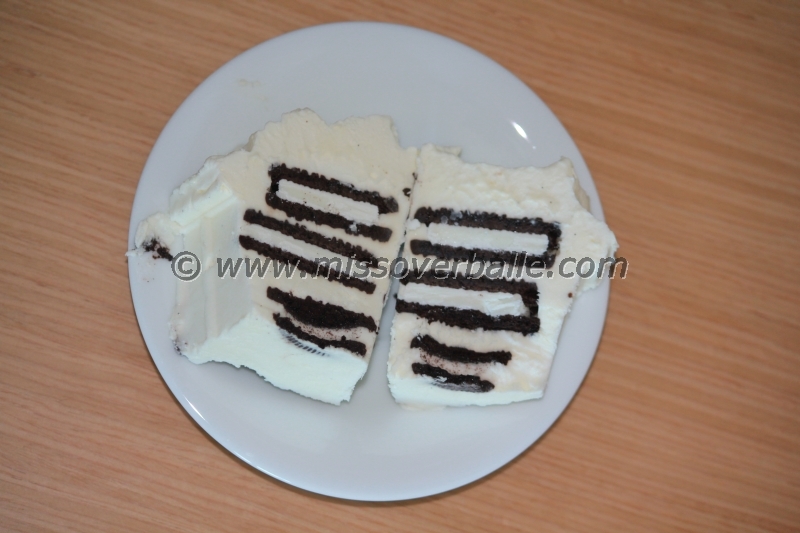 Hello again :) As you may be aware, I am still in Spain (follow my progress at www.frkoverballe.dk).
As I mentioned in my last post, our kitchen here is not as well stocked as I am used to, and I am sorry to say this is limiting my desire to bake things. I am trying to turn it around, but you may have to bear over with my a bit longer. One thing I did manage to do, was test out an idea I have seen all over the internets, the Oreo Icebox Cake.
First of all, I apologize for the crappy picture, but cute plates, table cloths and lighting equipment are not immediately accesible, and I decided that actually posting the recipe was better than fretting over the picture quality.
Now, an icebox cake is a frozen dessert where cookies or biscuits are layered with Cool Whip. Since Cool Whip is not a product I can get hold on, I decided to give regular whipped cream, sweetened with a bit of vanilla sugar, a try. Lets just say that it worked like a charm! This dessert is like ice cream with oreos in it, it is fast to make and tastes delicious.
Now, I will give the recipe for making a loaf size icebox cake, which should be enough dessert for 6-8 people, but the recipe can easily be halved or doubled, just remember to adjust the tin accordingly.
5 dl double cream
1 tbsp. vanilla sugar (or more, to taste)
2 pkgs. oreo cookies (~26 cookies)
Whip the cream to it gets thick and begins to get stiff, but don't overbeat it. Fold in vanille sugar.
Line a loaf tin with baking paper, letting excess paper hang over the sides, for easy removal.
Cover the bottom of the tin with whipped cream, and layer oreos on the whipped cream. Continue with more whipped cream and more oreos, until all the oreos are used. Cover with remaining whipped cream.
Place the tin in the freezer for a couple of hours, until frozen. (4 hours should do the trick)
Remove from the freezer 20 minutes prior to serving, lift out of the tin and let the dessert thaw slightly, before cutting it into slices. To make cutting easier, pour boiling water over the knife to warm it up.
There you have it, an easy, impressive dessert!