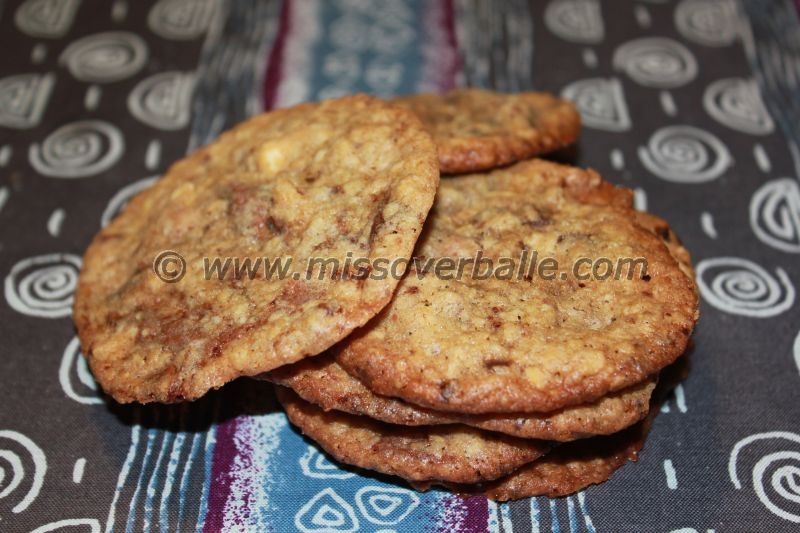 My boyfriend doesn't like cookies. He will eat them at times, but he doesn't enjoy them, Either they are too dry, or too soft or there is something else wrong with them. These, however, seem to be the exception. I've made them thrice, he has tasted them twice, and both times eaten them voluntarily and even said he liked them. (That's high praise for a cookie, my friends!)
Speaking for myself, I will definately make these again, they are utterly delicious, crispy and yummy, and chewy caramelly and… omnomnom!
Coincidentally, this recipe is also for my dear aunt, whose recent birthday party I couldn't attend, but I made sure to send a bunch of these cookies!
Yield: 30-35 cookies (yumyum!!)
100 g rolled oats
110 g flour
½ tsp baking powder
½ tsp baking soda
pinch of salt
170 g softened butter
100 g sugar
100 g light muscovado sugar
1 egg
1 tsp vanilla sugar
100 g white chocolate, chopped
100 g milk chocolate, chopped
100 g dark chocolate, chopped
appr. 100 g of caramels, cut or crushed i small pieces (alternatively, if you can find toffee baking bits, by all means, uses them!)
Place the oats in a food processor, and process until finely ground. Beat the butter and sugars until creamy, then beat in the egg, and add all the dry ingredients. Before the flour is mixed in completely, add the chocolates and caramel, and mix in. Form walnut-sized balls and place on a lined baking sheet. The cookies will spread quite a lot, so make sure they have space between them. press the balls down slightly and bake at 180 degrees Celsius for approximately 15 minutes until golden, and let the cookies cool on a wire rack.
Share and enjoy! (name the company whose motto this is, and the book it origins from!)