My boyfriend brought this to a lecture recently. Or rather, he was supposed to bring cake, but he happened to be in Sicily attending summer school, so someone had to be responsible for bringing cake. And who could that be?
Well, me.
So, I made a cinnamon wreath, kind of like cinnamon rolls, but connected!
You make a plain yeast dough:
600 g flour
2 dl warm milk
50 g fresh yeast (or 1 pkg. active/dried yeast)
2 eggs
100 g butter, melted
2 tbsp. sugar
1 tsp. salt
If using fresh yeast:
Dissolve the yeast in the milk, add the butter and eggs, then the sugar and salt, and knead in the flour.
If using dried yeast:
Mix the wet ingredients in a bowl. Mix the dry ingredients in a bowl, and knead the dry ingredients into the wet.
Knead until a soft, elastic dough has formed, leave to rise for 15 minutes.
Meanwhile, prepare the filling!
150 g butter
100 g sugar
2 tbsp. cinnamon
Cream the ingredients together to a spreadable consistensy.
Now, roll out the dough to a large rectangle, and spread out the filling. Roll together as when making cinnamon rolls, but instead of slicing the log, form a ring and pinch the ends together. Place on a lined baking sheet (parchment paper is your friend, you will se why later) and take a large pair of scissors! Snip the ring with about 2 cm between each cut, and arrange so it looks something like below: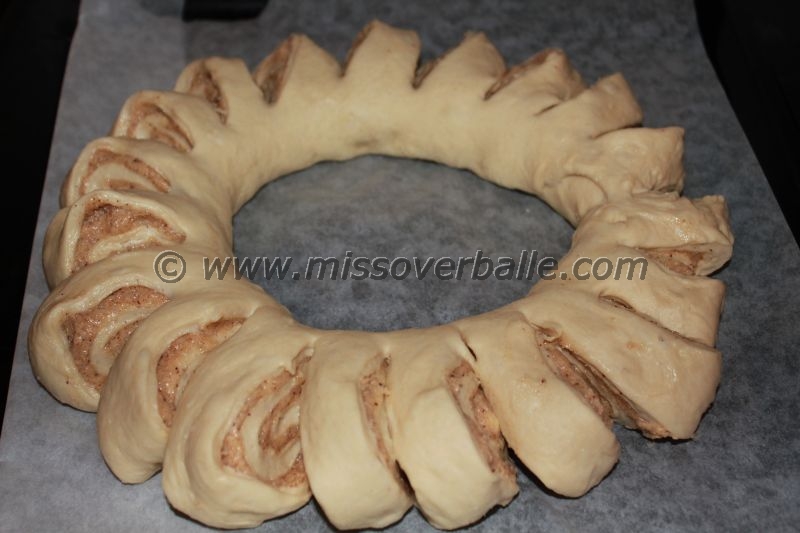 Brush with egg or milk, and bake at 210 degrees Celsius for 12-15 minutes, or until golden.
Now, look at the picture below. Can you see why parchment is your friend? This is because gravity is not your friend…