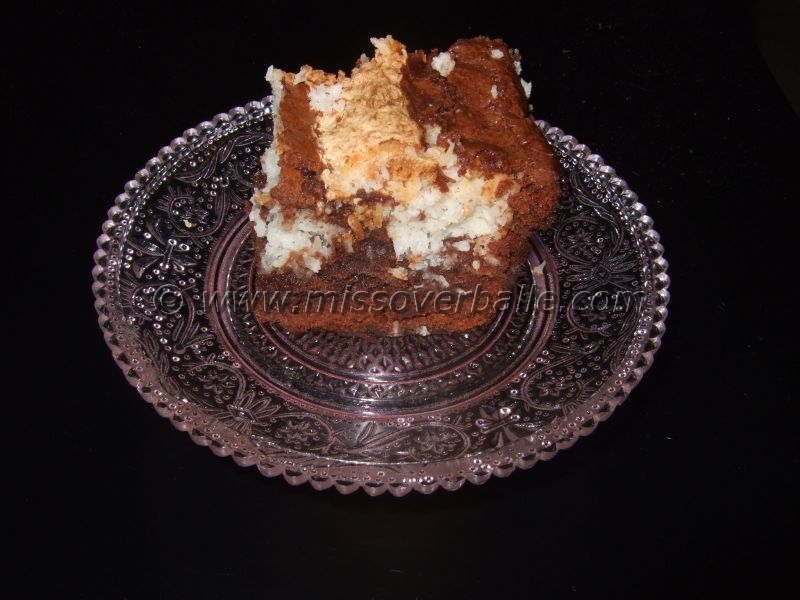 The canteen at my faculty has a cake. A chocolate cake with a moist coconut topping. This cake is clearly not homemade, as the exact same cake kan be bought at my local gas station. However, for a non-homemade cake, it is quite good. The chocolate cake has a hint of a synthetic taste, but the coconutfilling is delicious. Obviousle, I had to recreate it. The trick was to make a filling as moist as the original, and pairing it with a delicious chocolate cake. I decided to try and find a recipe for a brownie with a coconut filling, but most of these were with a cream cheese filling, and what I wanted was an egg-white based filling (kind of the inside of a bounty bar). At last I came up with the combination of these two:
Brownie batter (adapted from Nigella Lawson):
375 g butter
375 g dark chocolate
6 eggs
1 tbsp. vanilla sugar
500 g sugar
225 g flour
1 tsp. salt
Melt the butter and chocolate, let cool. Beat the eggs with the sugar until foamy, and mix in the chocolate mixture. Fold in the flour, salt and vanilla sugar.
Coconut Filling (adapted from RecipeBridge):
3 egg-whites
150 g sugar
200 g shredded coconut
2 tbsp. sour cream
1 tbsp. vanilla sugar
Combine the sugar and egg-whites in a heatproof bowl over simmering water. Whisk until the sugar has dissolved, and remove from the heat. Whisk the egg-mixture until very stiff, glossy peaks form, and fold in the coconut, sour cream and vanilla sugar.
Spread 2/3 of the brownie batter in a cake tin (20×30 cm or so), and bake at 180 degrees Celsius, for 15 minutes or so.
Fill a piping bag or regular plastic bag with the coconut filling, cut a fair big hole, and pipe lines of filling over the cake. Use the remaining batter to fill the gaps between the coconut filling.
Bake for 10-15 minutes at 180 degrees Celsius, until the coconut filling appears golden and the brownie set.
Make sure to save yourself a piece, before any hungry chemistry students appear and eat it all! (Or does that only happen to me?)