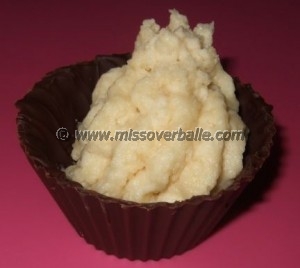 The April 2011 Daring Bakers' challenge was hosted by Evelyne of the blog Cheap Ethnic Eatz. Evelyne chose to challenge everyone to make a maple mousse in an edible container.
I used the given recipe for Maple Mousse, but halved it and used leafed gelatine (husblas) as that was what was available. Big thanks to my friend Liv, who bought the ingredients for me, so I could make the deadline! :)
I liked the mousse, the maple flavour was very delicate and the mousse was rich. The chocolate was a nice touch, and I think it would go nicely with a chocolate sauce as well.
Serves 6.
Chocolate bowls:
200 g dark chocolate
Silicone muffin moulds
Melt the chocolate, and cover the inside of the moulds with a spoon, brush, fork or what you have on hand.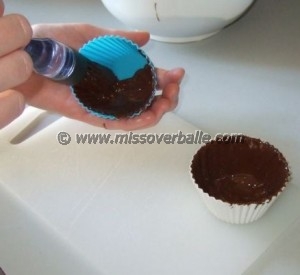 Place the moulds in the freezer, and let the chocolate set, and then cover the inside of the cup with another layer of chocolate.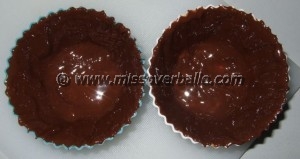 Place in the freezer again, until set, and remove the silicone mould.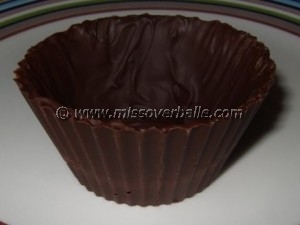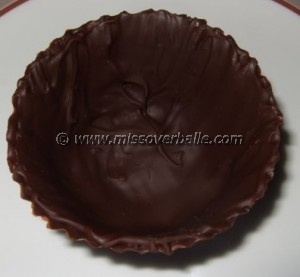 Store in the fridge, until ready to fill.
Maple Mousse:
120 ml maple syrup
2 pasteurized egg yolks
5 leaves of gelatine (husblas)
180 ml double cream
Bring the syrup to a boil, and remove from the heat. Beat a little of the syrup into the egg yolks, to temper them. Add the yolks to the hot syrup, and beat until well combined.
Soften the gelatine in cold water twice, and melt in 50 ml of the cream, in a broiler. Add the gelatine mixture to the syrup. Leave for an hour, while whisking occasionally.
Whip the remaining cream, and beat 1/4 into the syrup mixture. Fold in the rest of the whipped cream, and leave in the fridge for an hour. Fill into a piping bag, fittet with a large star nozzle, and pipe into prepared chocolate bowls.