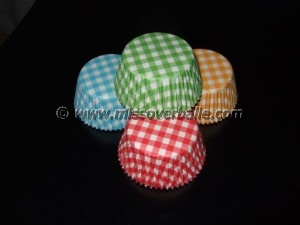 In three days, it will be a year since Frk. Overballe began cake-blogging! My first post was my birthday cake, posted on april 26. 2010.
It has been a fun year, baking, blogging, eating cake, forcing my fellow students to eat cake… Oh my :)
An anniversary must be celebrated, and what better way to celebrate than with gifts?
I went to Sweden thursday and picked up these:
25 paper liners in each colour, and they could be yours!
1. Leave me a comment in this post (preferably about something cakey!)
2. (Optional) Become a Facebook Fan, and leave a comment telling me you did! (If you are already a Facebook Fan, leave me a comment saying so)
I hope you will participate! (And the price might just contain more than the paper liners…)
You must leave your comment(s) no later than April 26th, at midnight (GMT+1)
Since I had hoped for a bit more participants, and I realise it has just been easter, I have decided to extend the deadline (My competition, I make the rules)
The new deadline is May 5, midnight (GMT+2, and yes, Jon, that is for you)