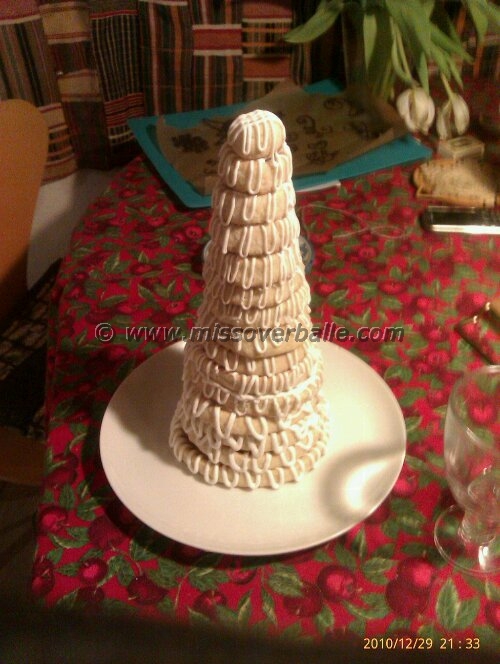 Happy New Year!
New Years eve is approaching, and I wanted to share a Danish tradition with you. The Danish name for this delicacy translates directly to "Wreath Cake", as it is made of wreaths in different sizes. Google translate translates the name to Marzipan. While this is a quite good description, it lacks a certain quality in being a name.
So, I decided to call it New Years Marzipan Cake!
It is usually served right after midnight, when the kissing, cheering and jumping down from chairs is done. (Yes, some Danes jump down from chairs, however I believe this is originally a Swedish tradition. Something about jumping into the new year.).
Now, the recipe!
100 g almonds, skin removed
200 g sugar
2 egg-whites
500 g marzipan
Blend the sugar and almonds in a food-processor, until fine. Add the egg-whites, and process until you obtain a smooth paste. Knead this paste with the marzipan, until a smooth dough is obtained.
Leave in the fridge for a minimum of 3 hours.
Roll logs at about a fingers thickness, and press one side evenly, so the logs obtain a triangular shape. Cut the logs in pieces of 8, 10, 12 cm (allways make the next piece 2 cm longer), until the wanted number is obtained. Form every piece to a circular wreath, and place on a baking sheet with parchment. Place a second piece of parchment over, and level the wreaths by placing a second baking sheet or something else flat on top.
Bake for 8-12 minutes, until golden, at 190 degrees Celsius.
Let the pieces cool, and place the largest wreath on whichever plate you wish to serve the cake on.
Decorate the wreath with royal icing, in a zig-zag pattern, and place the second largest wreath on top. Decorate in the same manner, and place the next wreath on top and so on and so forth.
A small ball of dough fitting into the smallest wreath, can be baked with the wreaths, and placed on top.
This recipe yields enough dough to make 15 wreaths, plus 12 little pieces. The recipe can easily be halved, to make a smaller cake.
Happy New Year!