It has been a week and a half since my last What's new! post so it seemed like time for another one!
But what is new? Well, first of all it has been easter, which means time of from work. We spend some family time and I made a lot of bread, as well as a sample cake for a wedding cake I am making in May.
I also worked with Squires Kitchen sugarpaste, and I am becoming increasingly happy with the consistency and the results.
I also tried out FMM's easiest ever rose cutter, and while the roses turned out okay, I can't seem to get them quite as nice as the ones on the internet… I guess it is a case of practice makes perfect.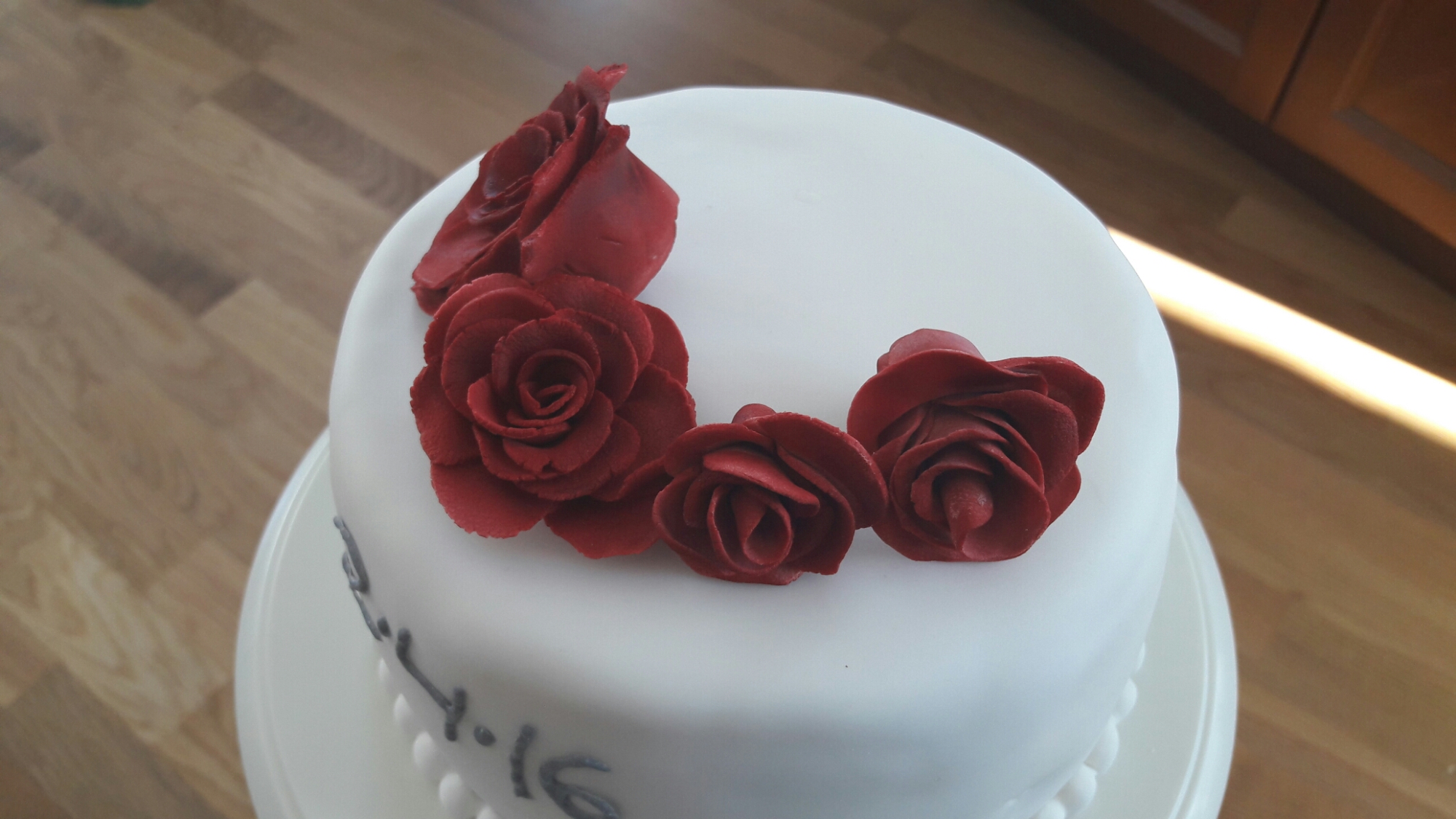 I have also tried out Squires Kitchens Flexi-ice mixture, which I will cover in detail in another post.
I am also playing around with my airbrush, but it seems like it won't quite work with RainbowDust metallic paint, even though it should. I am considering if a thorough cleaning might do the trick.
I also made a wedding cake, which is probably the biggest cake news this time, it took two days and turned out pretty well (if I may say so myself). The bride and groom liked it, which is always the important part.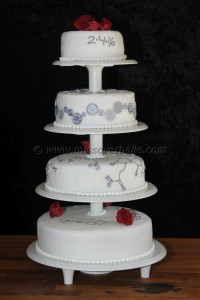 For the cake I had ordered a stencil to airbrush one layer, but the stencil didn't arrive (and still hasn't) so I had to change approach, and ended up making a lot (!) of fondant gearwheels for the cake. The result was different, but worked pretty good.
I used this mould and this one, the moulds are very soft, and sort of difficult to work with, particularly because the shapes are very thin. I had to give up completely on the largest wheels.
The gearwheels were painted with RainbowDust metallic paint in light and dark silver. I may have issues with airbrushing these paints, but I love them as paint. Just make sure you have enough drying time, as the thick paint takes some time to dry.
I also tested a silver fondant that I got in my christmas calendar. It is a silver coloured fondant, with metallic sheen, which I have never seen before. While it worked fine for my purpose, I was a bit disappointed with the consistency. It was hard, dry and greasy at the same time, and took an unreasonable amount of kneading to achieve a workable consistency. I probably wouldn't buy it, which is a shame, because the idea is good. I'll keep the rest though, it might come in handy.
The wedding cake (which will be covered in a seperate post) was also the reason my husband didn't get homemade cake for his birthday. Sorry honey :(
I realise I have talked about a lot of products in this post, and would like to stress that I am in no way compensated by anyone, I buy my stuff and pay for it. If that changes, I will let you know!