I am sitting on my couch with my laptop on my lap, watching the full moon rise over the building outside my window, while darkness falls.
I like our apartment. I like that we have space for our stuff now, I like that we have the wall space for a huge world map wall sticker. I like watching the trains go by, either through the windows or from the balcony. I like that if the sun is out, there is sun on our balcony from sunrise to sunset. I like that I can watch the sun set over the train station from the balcony. I like the huge windows that let lots of light in. I like the subtle sound of the trains when they go by (as one did just now). I like our kitchen, with cabinet space and a dishwasher. I like the Ikea kitchen tables we bought, giving me plenty of countertop space, even with two kitchenaids permanently on display.
The moon has almost risen out of view from my seat while I have been typing. I can almost (almost) see it move.
Well, apartment love and moon watching aside, I made a cake.
It was a test cake for a couple of friends, who have asked me to make their wedding cake later this year. It was white cake with lime, blackberry mousse and white chocolate ganache. It needed a few tweaks to be perfect, so the recipe will come at a later time.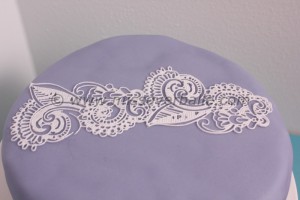 The lace topping was made with flexi-ice, which I will also cover in a later post. (I need more experimentation, more practice and more pictures!)
Now the moon has gone completely from my window, and another train just went by.