So, long time no post, once again… Since my last post, I have finished my thesis (yay!) and left for San Sebastian in Spain! You can follow my Spanish endeavours here.
Now, I figured I would get to bake a lot while here, however it proves more difficult than expected. First of all, my handmixer is much missed. Of course, it is entirely possible to bake without a handmixer, but frosting and meringue is not going to happen. The kitchen is very minimalistically equipped, however I have bought a few essentials (a bowl, an ovenproof dish and measuring cup), but baking is more difficult here.
However, making do with the few utensils, finding ingredients is also proving hard. Some things (butter, sugar, eggs) are found, but other things (powdered sugar, sour cream) cannot be found. Also, there are not that many supermarkets, and most are quite small.
So I spend most of my time researching recipes rather than baking…
But I do want to share some cake with you!
First I want to share a cake I did not make, but which was made for me! Before my master's defence I proclamed I would not make cake for the reception, however I expected there would be decorated cake. My boyfriend decided to team up with my sister to fulfill my expectations, and that they did!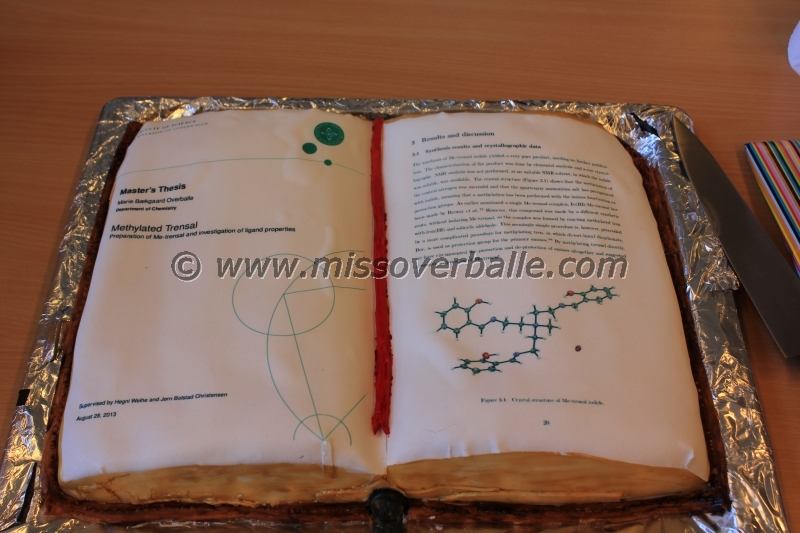 Is it not gorgeous? The left side is the front of my thesis and the right side is a page from my thesis, with a picture of my most significant result! I was so moved, and very, very impressed!
Over and out, I'll hopefully soon have something to post again!