Yes, yes, I know, I'm bordering on pathetic here… It seems like all my last posts have been all apologies for not writing more posts. So let me first show you a pretty Picture of a cake, and then I'll tell you what I have been up to since last time?
Behold, Rainbow ruffle cake!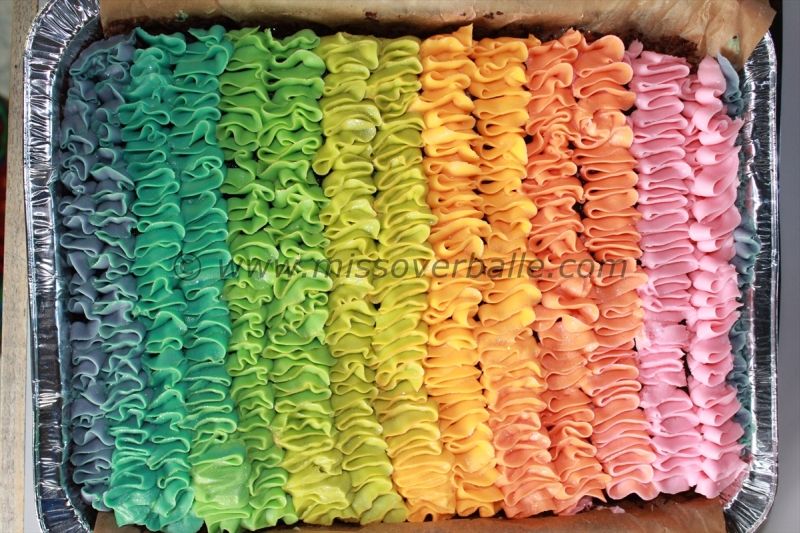 Anywho, since the last time I posted anything, lots of stuff has happened. I have been working on my master's thesis (we'll get back to that), taken care of visiting primary school student at the university (quite fun, but exhausting!), I Applied for a PhD position that I didn't get, seen a concert with my favourite band, baked 240 cupcakes for a Gala Ball at my department (Pictures will come, I promise), attended the annual meeting of the Danish Chemical Society (would have been loads more fun without menstrual cramps, but it was still interesting) and, perhaps most interesting, I have been offered (and accepted!) a PhD position at my department, however in a different group.
I am of course over the moon about this, but it also means that I have to finish my master's thesis very soon, before leaving for Spain with my boyfriend for 6 weeks, immediately after which I will begin my PhD. So this is the explanation for my current lack of posting, I am spending most of my time in the lab or in front of my laptop (with an open LaTeX document, sadly not just browsing cake sites). Bear over with my hiatus, I promise it will get better!
And just a second picture of a pretty cake, because you read it all :)
Chocolate and gold cake!