I have neglected my blog horribly lately :( The reason for this is mostly my exam, which was a week of essaywriting and then a week of reading before an oral examination. After the exam, the next couple of days were spend morally supporting by boyfriend who defended his master's thesis last week. The defence went well, he is now M. Sc., and waiting to begin his Ph.D. in august. There was a reception after the defence, and I, of course, made the cake :) My boyfriend is very fond of the cider "Strongbow", which he likes drinking when we are in Britain. However, it is very expensive in Denmark, so my parents brought 4 cans back from London last time they visited my sister. I used one of these cans as inspiration for this cake that I served at the reception :)
The cake took an entire day to make, and my boyfriend's appreciation of it (mostly upon seeing the pictures afterwards, he was soo stressed out on the day of his defence!) was so worth all the work!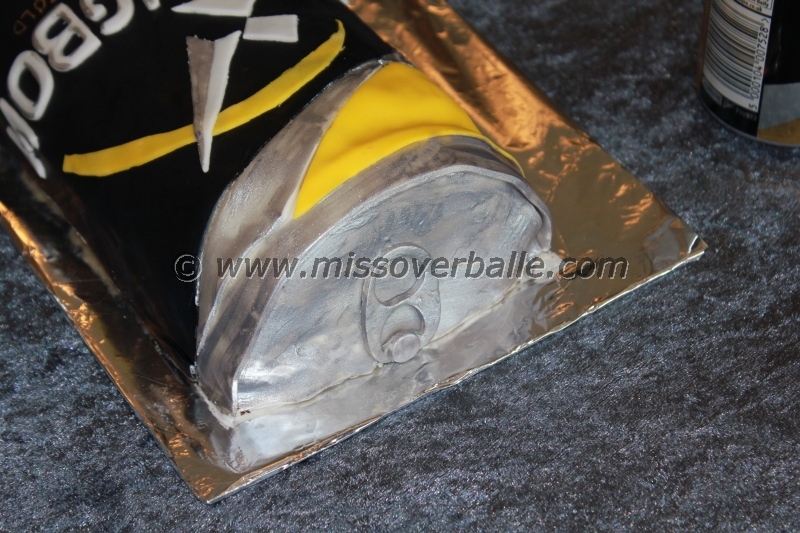 The inside is a delicious chocolate cake, adapted from The Confetti Cakes Cookbook, sandwiched with sweetened, vanilla mascarpone.
I have no picture of the chocolate cake itself, but I got so many requests for the recipe, that I'm including it here :)
340 g flour
115 g cocoa powder
2 tsp. baking powder
1 tsp. salt
225 g sour cream
½ tsp. vanilla powder or 2 tsp. vanilla sugar
225 g butter
395 g sugar
2 eggs
280 ml strong coffee
yields a 33 x 45 cm square cake
Beat the butter and sugar until creamy, and add the eggs, mixing well. Mix the dry ingredients, and add them alternating with the sour cream, and then slowly add the coffee. Combine well, and pour into a lined tin.
Bake at 180 degrees Celsius, for 45 minutes or so, until a skewer comes out clean.
Enjoy! :) and look forward to more posts coming up soon :)