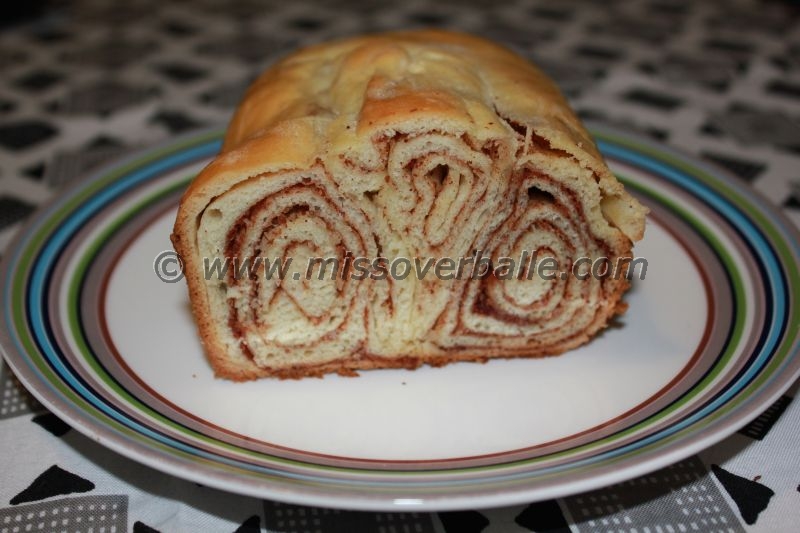 The Daring Baker's October 2011 challenge was Povitica, hosted by Jenni of The Gingered Whisk. Povitica is a traditional Eastern European Dessert Bread that is as lovely to look at as it is to eat!
The concept is actually simple, a yeast dough rolled out, a filling spread over, rolled up and baked in a bread tin. The original recipe called for a walnut filling, but since my boyfriend doesn't eat walnuts, I decided to make a almond-cinnamon filling instead.
Ingredients (1 loaf):
Starter:
½ tsp. Sugar
Pinch of flour
2 Tbsp. warm water
1½ tsp. dry yeast
Dough:
120 ml whole milk
3 tbsp. sugar
pinch of salt
1 egg
1 tbsp. butter, melted
280 g flour
Filling:
100 g butter
4 tbsp. sugar
1 tbsp. cinnamon
4 tbsp. ground almonds
Start by activating your yeast. Mix sugar, flour, water and yeast together, and leave for 5 minutes. The mixture will then appear bubbly!
Meanwhile, scald the milk. This is done by heating the milk, not to a boil, but very, very, steaming hot (about 82 degrees Celsius), while stirring. Let it cool to warm (about 43 degrees), and mix with the sugar and salt. Then add the egg, the yeast mixture, melted butter and 1/4 of the flour. Mix thouroughly and add the remaining flour gradually, kneading until you have a soft, smooth dough. Leave to rise for 1½ hour. (this is when you clean up the kitchen).
When risen, roll out the dough thinly. And when I say thinly, I'm actually talking about even thinner than that. We're bordering on transparent here. Then spread the butter over the dough, and mix sugar, cinnamon and ground almonds, and sprinkle on top. Roll up, and you will have a very long sausage. Grease or line a loaf pan, and place the sausage in it, going back and forth. Let rise for 15 minutes, brush with milk and bake for 15 minutes at 180 degrees Celsius, turn down the oven to 150 degrees Colsius, and bake for another 45 minutes, until golden.
Eat and enjoy!!