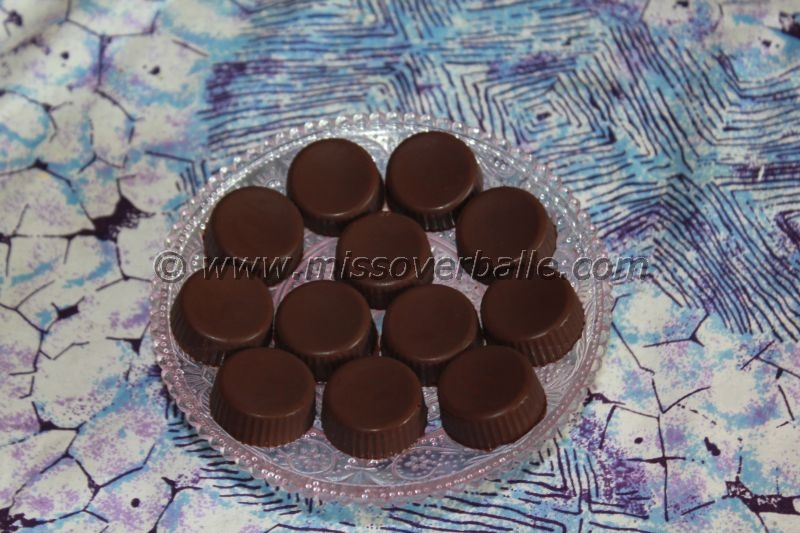 The August 2011 Daring Bakers' Challenge was hosted by Lisa of Parsley, Sage, Desserts and Line Drive and Mandy of What the Fruitcake?!. These two sugar mavens challenged us to make sinfully delicious candies!
Oh my, it has been way to long since I've done a Daring Bakers Challenge! The first part of this months challenge was to make a chocolate candy, while tempering the chocolate. I'll be honest with you, I have made filled chocolates before, and quite often too, but never seem to get around posting a how-to, so this seemed like the perfect opportunity. Also, I usually don't temper the chocolate, just melt it regularly… But, since tempering was part of the challenge, I included a how-to as well :)
First, take your Chocolate: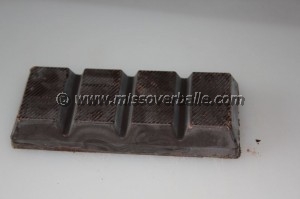 The chop it up with a serrated knife (I love doing this)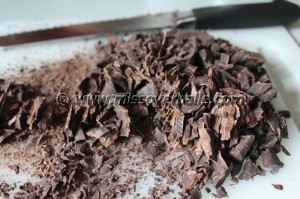 melt 3/4 of the chocolate in a double boiler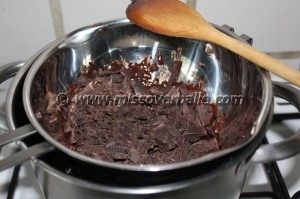 Heat the chocolate to 52 degrees Celsius, remove from the heat, and stir in the remaining chocolate.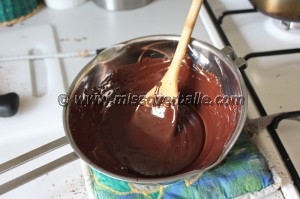 When the remaining chocolate has melted, leave it to cool to 29 degrees Celsius.
Then heat it again to 31 degrees Celsius, and keep it there (remove and return to heat accordingly)
Now you are ready to fill your mold!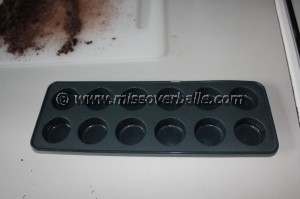 Pour over your tempered chocolate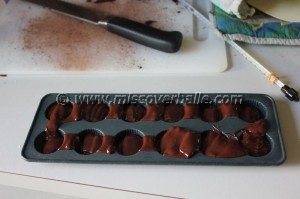 Knock the mold on the table a couple of times, so the chocolate completely covers the mold, and turn it upside down, to let the excess chocolate run out. Scrape the excess chocolate into de double boiler, and let the chocolate in the mould set, still upside down, in the fridge or freezer.
Meanwhile, prepare the filling! This is where you let your imagination run wild! Marzipan, nougat, liqourice syrup, jam, dulce de leche, caramel, anything you like. I chose a peanutbutter filling.
2 tbsp. peanutbutter (I chose crunchy, for texture)
2 tsp. light muscovado sugar
appr. 2 tsp. light syrup, to adjust the consistensy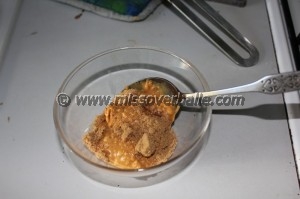 Mix well, and add syrup to a soft consistensy.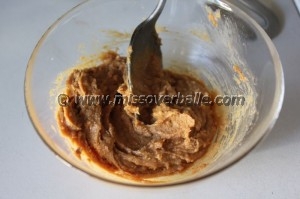 Transfer to a piping bag, this will make filling the chocolates easier.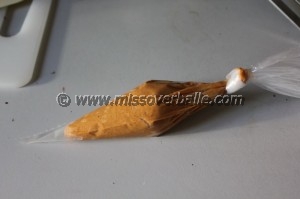 When the chocolate has set, remove from the freezer/fridge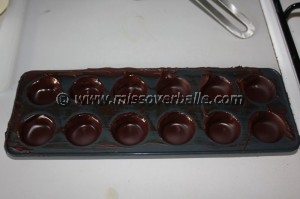 Pipe in a little filling in each mould, and gently press the filling down with your finger, so it doesn't "peak" out of the mould. Then pour over remaining chocolate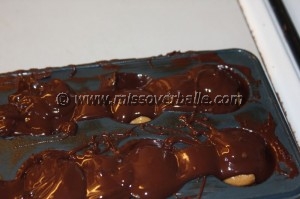 Using an angled spatula, spread the chocolate evenly over the mould, and scrape of excess chocolate.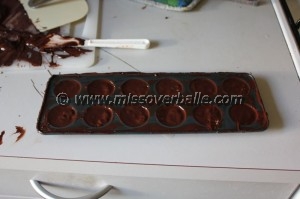 Now, return the mould to the freezer/fridge to set again. Once set, pop out the chocolates, and enjoy :)