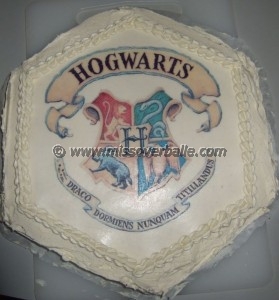 My cousin had a Harry Potter theme birthday party. Besides making her cape, I also made the cake. The request was a cake with the Hogwarts logo. The logo is quite detailed, so I decided to order a rice paper print of the logo, and ended up making two cakes.
Mud Cake with raspberry jam, covered in vanilla buttercream.
I was quite pleased with the rice paper prints, they were not overly pricey, and turned out very nice.