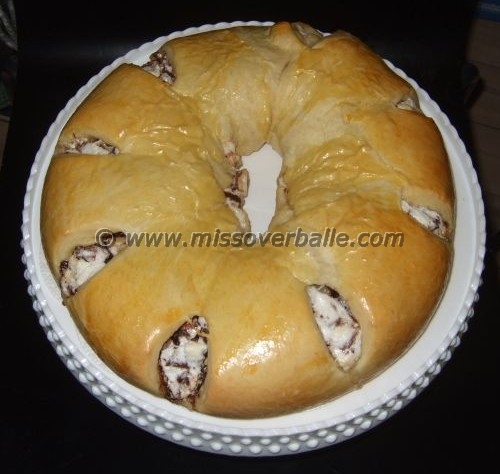 The March 2011 Daring Bakers Challenge was hosted by Ria of Ria's Collection and Jamie of Life's a Feast.
The challenge was a meringue filled coffee cake that turned out delicious! My father, who insists that he doesn't really like cake, really enjoyed this. My fellow students also enjoyed this, to the point of there being nothing left – I think that constitutes a success :)
I used the given recipe for the dough and the meringue, and came up with a hazelnut-chocolate-cinnamon filling.
Dough:
600 g flour
55 g sugar
¾ tsp. salt
7 g active dried yeast
180 ml whole milk
60 ml water
135 g soft butter
2 eggs
– 1 beaten egg for egg wash
Filling:
3 egg whites
¼ tsp. salt
½ tsp. vanilla
110 g sugar
Filling:
100 g chopped hazelnuts
30 g sugar
¼ tsp. cinnamon
150 g chopped chocolate
Prepare the dough:
Mix 230 g of flour, the sugar, salt and yeast.
Combine the milk, water and butter in a saucepan, and heat over medium heat until warm and the butter is just melted.
With an electric mixer, gradually add the warm liquid to the flour/yeast mixture, until well blended. Beat for 2 minutes, add the eggs and 150 g of flour, and beat for 2 more minutes.  Stir in enough of the remaining flour, to make soft dough. Knead the dough with as much of the remaining flour, to make a nice, soft, elastic dough (I like working with dough)
Coat the dough with a little oil, and leave in a bowl to rise to double size (45-60 min).
Meanwhile, prepare the filling:
Beat the egg whites with the salt until foamy, add the vanilla, and the sugar spoon by spoon, while  beating, until you have a stiff meringue.
When the dough has risen, punch it down and divide it in half and roll each part out to a square of 50×25 cm.
Spread half the meringue on each square, and sprinkle your filling over the meringue. Roll the square lengthwise, and form to a ring, make sure to pinch the openings, so your filling doesn't run away!
Transfer to a lined cookie sheet, and now comes the fun part! Take a pair of scissors and make cuts along the edge. Cover with plastic wrap, and allow to rise for 45 to 60 minutes.
Brush with the beaten egg, and bake at 180 degrees for  20-30 minutes, until golden and beautiful!
This was a really nice challenge :)